Are You Looking For the Best Removals Company in Rotherham?
Rotherham Removals is your one-stop destination for home removal services that are reliable, cost-effective, and highly efficient. Whatever and wherever you are moving, we are always there to help you out.
Professional Removal and Moving Services in Rotherham
Rotherham Removals offers stress-free moving services for individuals wishing to relocate their possessions from one location to another. Our main goal is to give our clients the best possible service, and we constantly go above and above to help them relocate. Since we've been operating in the field for a while, we've established an excellent reputation among the Rotherham community. Therefore, to eliminate room for error and guarantee client pleasure, we have included only the best individuals in our team. We provide various removal services, including home and business moves, piano and furniture relocations, and many more.
You've come to the correct place if you seek dependable removal service at reasonable pricing. We offer you a comprehensive package in which every aspect of the delivery of your products is handled by experts with extensive experience in this field. We never make compromises regarding our customer's needs and ensure that the products are delivered smoothly and to the correct location. Please feel free to contact us; Rotherham removals are pleased to assist you.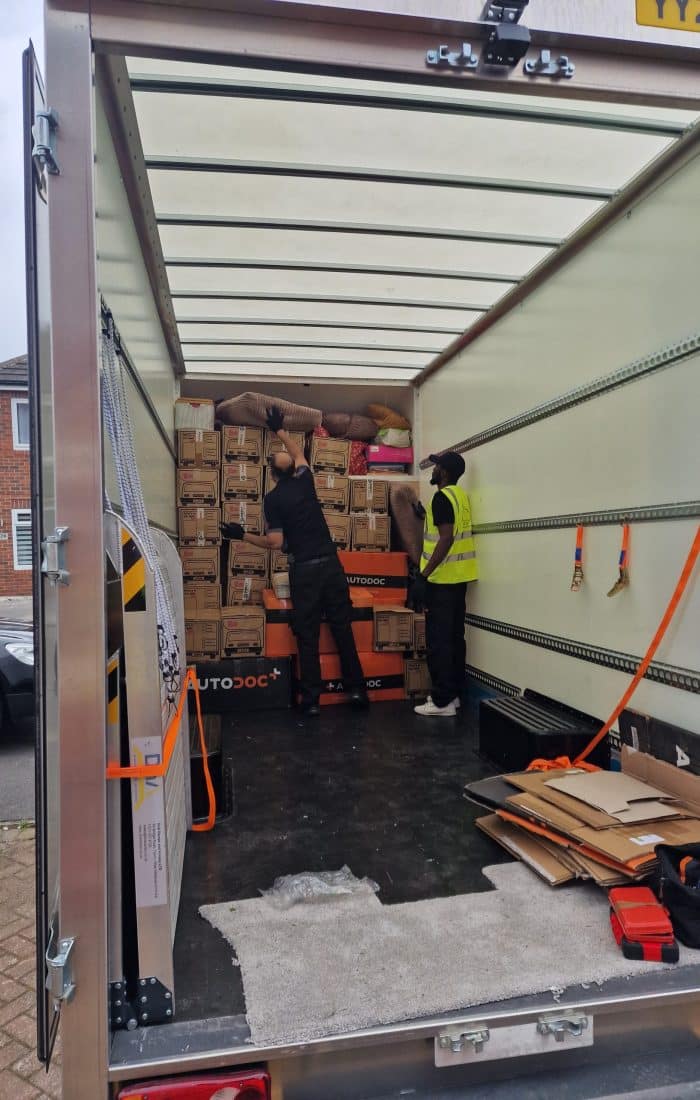 Why Should You Choose Pro Removals Rotherham?
We move your goods with the utmost care, and under the guidance of experts in removal services, there is no risk that they will be damaged when you work with us. We will only send the best employees to pick up and deliver your items from your house to the designated destination.
It takes skill to move necessities out of the house; therefore, it's crucial to have the correct advice and assistance to deliver your goods. If you are moving house in Rotherham, our removal service will assist you with the delivery of the products with minimal difficulty and at a reasonable cost. We will deliver your items to the location of your choice once you have given us your specifications. We also deal in office removals and many others.
We have expanded our removal services beyond office moves to include piano, furniture, student, and a man with a van service. In addition, we aid and allow customers to transport their office supplies from one location to another. Our staff's efforts will ensure that the task is completed with the utmost precision and efficiency.
Every part of our services is efficient. To achieve this, we ensure openness in the service so that our customers receive accurate information and may contact us without difficulty with their questions. Our professionals are confident that they can provide further support if you transfer workplaces and require house removal services. Rotherham Removals is at your beck and call.
Schedules and deadlines are always crucial during moves, but when the relocation is for a company, there is an added motivation to do it on time. Our clients are interested and want to get back to doing business as usual. There may be delays, which might be bad for the company. It is crucial to engage an effective and accountable removal crew and make it happen for you to be at the top of the game among Removal companies in Rotherham.
We have expertise with all kinds of moves, including commercial ones, at Pro Removals Rotherham. Regardless of the type of business, we know what it takes to execute a successful action.
Benefits of Removal & Relocation Service in Rotherham
Due to our dedication to providing our clients with the finest service possible over the years, we have a solid reputation in Rotherham and the surrounding region. We have expertise with many various types of removals, including business ones. Thanks to the abilities and information we've acquired, we can efficiently execute any.
One of the most significant benefits of choosing us is that our offers are reasonable & reliable removal service. To receive excellent service, you can pay little money. You may now get high-quality assistance at a reasonable cost. We make it simpler to adhere to a budget and enable residential and commercial removals.
We're pleased to provide extra services like furniture assembly and packing assistance in addition to the regular commercial removals service.
Rotherham's Local Removal Expert
Looking for dependable and hassle-free moving services in Rotherham? You've found them with us, your trusted Rotherham's local moving experts. We're here to simplify your move and ensure a smooth transition to your new place.
Our team of experienced professionals is dedicated to making your move stress-free. Whether it's a household move, office relocation, or any other moving needs, we've got you covered.
Our straightforward competitive pricing and unwavering commitment to customer reviews make us stand out as Rotherham's top choice for moving services. Join our satisfied customers and experience the unique and reliable moving service that makes us Rotherham's trusted moving pros.
Rely on Professional Movers: Pro Removals in Rotherham
We are aware of your desire to relocate as affordably as possible. It's wise to stick to a budget whenever feasible because several small fees and expenses accumulate over time. But it doesn't imply you should cut corners on your removals. Going it alone is nearly always a mistake you will regret.
Why make the day of the move a hassle? Why do people employ professionals? Instead of going through the hassle of trying a shoddy house removal, use a service like ours that is inexpensive but effective to manage on your behalf. 
You won't believe how soon you'll feel at home in your new location. You'll be delighted that you worked with our trustworthy local crew and removal service that is 100% efficient and reliable removal service.
Get more detailed tips for removals on our blog section.
Best House Removals Company Ever
With us there is no risk of damaging the goods as we deliver them with utmost care and under the supervision of experts who have experience in removal service.
We, at Rotherham removals, provide stress free removals for those whom are looking to move their house or goods from one place to another. Our main goal is to achieve utmost client satisfaction and trying to go above and beyond in helping move to their new home. We have been functional in the industry for a past few years now and have earned a good reputation amongst the community of Rotherham. We have made sure to include the best people in our team who leave no space for mistakes and ensure clients satisfaction. We offer many types of movers or we can say removal services such as: house removals, office removals, piano removals, furniture removals, commercial removals, and much more.
Every Month, Hundreds of People move across Rotherham.
We are dedicated team of professionals who aim to achieve excellence in our services and ensure that our clients remain satisfied with the removal services that we provide. Here are some of the reasons why we are the best:
Rotherham's Leading Man & Van Services Company
When it comes to reliable and efficient man and van services in Rotherham, look no further than our top-tier company. With a stellar reputation for delivering exceptional service, we have earned the title of "Rotherham's Leading Man & Van Services Company." Our commitment to excellence and customer satisfaction sets us apart in the industry.
Our team of dedicated professionals is well-equipped to handle all your moving and transportation needs. Whether you're relocating your home or office, need furniture delivery, or require assistance with a small removal job, we've got you covered.
Removal Services we provide
What people say about us? Google Maps Reviews
Darshan M R (RA1911038010061)
2023-10-31
Pro Removals Rotherham truly made our house move a smooth and stress-free experience. Their exceptional service and attention to detail exceeded our expectations
Darshan Barath
2023-10-29
Pro Removals RotherOn-time and reliable service. My house removals was completed in a day with no stress. Good job, Jacobham
Tracie Nortcliffe
2023-10-27
Very understanding and helpful in everything they did and would definitely recommend their services thankyou for your help moving all my furniture into my new home
Memes Uk Nepal
2023-10-20
Used Removals Service by Pro Removals Rotherham this morning. They did exactly as they said they would. Efficient, quick, and on time. Excellent job. Would recommend 100%
Did a great job for us this week moving my elderly mothers furniture from our house to a new property. Really polite lads and took real care while furniture removals from house. Thank you guys
Sagar Bhattarai
2023-10-18
Can vouch for these guys, they came and cleared my office last week did a fantastic job, reliable, friendly and good value. If looking for office removals go with Pro Removals - Highly recommended!
munawar hussain
2023-10-02
Thankyou for today , everything I got from you is amazing especially for my house removals. Absolutely lovely guy and the service was 10/10 and even delivered all my free items from Rotherham to Chester for cost of fuel.
Great help moving our piano. Efficient and fast. Thanks
Great removal company! Rung up to enquire about moving a piano we bought online and they were super helpful and managed to fit us in the same day! Very skilled movers and careful with the piano! Thank you 🙂
very good experience will 100% do it again really friendly staff and quick movals and all my property delivered to my new house safely.
Our specialized teams lead the complete removals process for customer ease and safety.
Fill out the form for an instant estimate on how much your moving company will cost before they start packing up everything that belongs into boxes or suitcases.
The quote form will be completed and our representatives will call or email you to discuss your removal requirements and inspect via video or visit.
The removal team will ensure that all of your belongings are delivered to the new address in a safe and timely manner and are disamblled properly wherever you want.
Frequently Asked Questions
Rotherham is a large town in South Yorkshire, England, with a population of approximately 265,807 people. The town is located on the banks of the River Don, and it covers an area of around 44.3 square miles.
Rotherham has a rich industrial heritage, with coal mining and steel production playing a significant role in its history. Today, the town is home to a diverse range of industries, including advanced manufacturing, engineering, and logistics.
There are many places of interest in Rotherham, including the Clifton Park Museum, which showcases the town's history and heritage. In recent years, Rotherham has been working to improve its transport links, with the opening of a new tram-train service connecting the town with Sheffield city center. This has helped to boost the local economy and has made it easier for people to travel to and from the town. Rotherham is a bustling and vibrant town with a rich history and plenty to see and do.
Get Quality Moving Customize Solutions with Pro Removals Rotherham - Making Life Easier!
To get to Pro Removals Rotherham, which is located at Wickersley Ct in the town of Wickersley, Rotherham. If you start from Rotherham General Hospital, head south on Moorgate Rd/A618 towards Kings Way. Once you reach the intersection, turn left onto E Bawtry Rd/A631.
You will continue on this road until you come to Brecks Roundabout. At the roundabout, take the third exit, which will keep you on E Bawtry Rd/A631. Continue straight through the roundabout and keep going until you reach Patterdale Grove. At this point, make a U-turn and then turn left onto Wickersley Ct.
Pro Removals Rotherham will be on your right-hand side, and you will have arrived at your destination.
Pro Removals Company In Rotherham
Wickersley Ct, Wickersley, Rotherham S66 2AA, United Kingdom
We are open Monday – Friday: 8 am–6 pm 
Not sure where to begin?
no need to worry, we'll help you move.
Affordable prices which are the best in the removal industry.